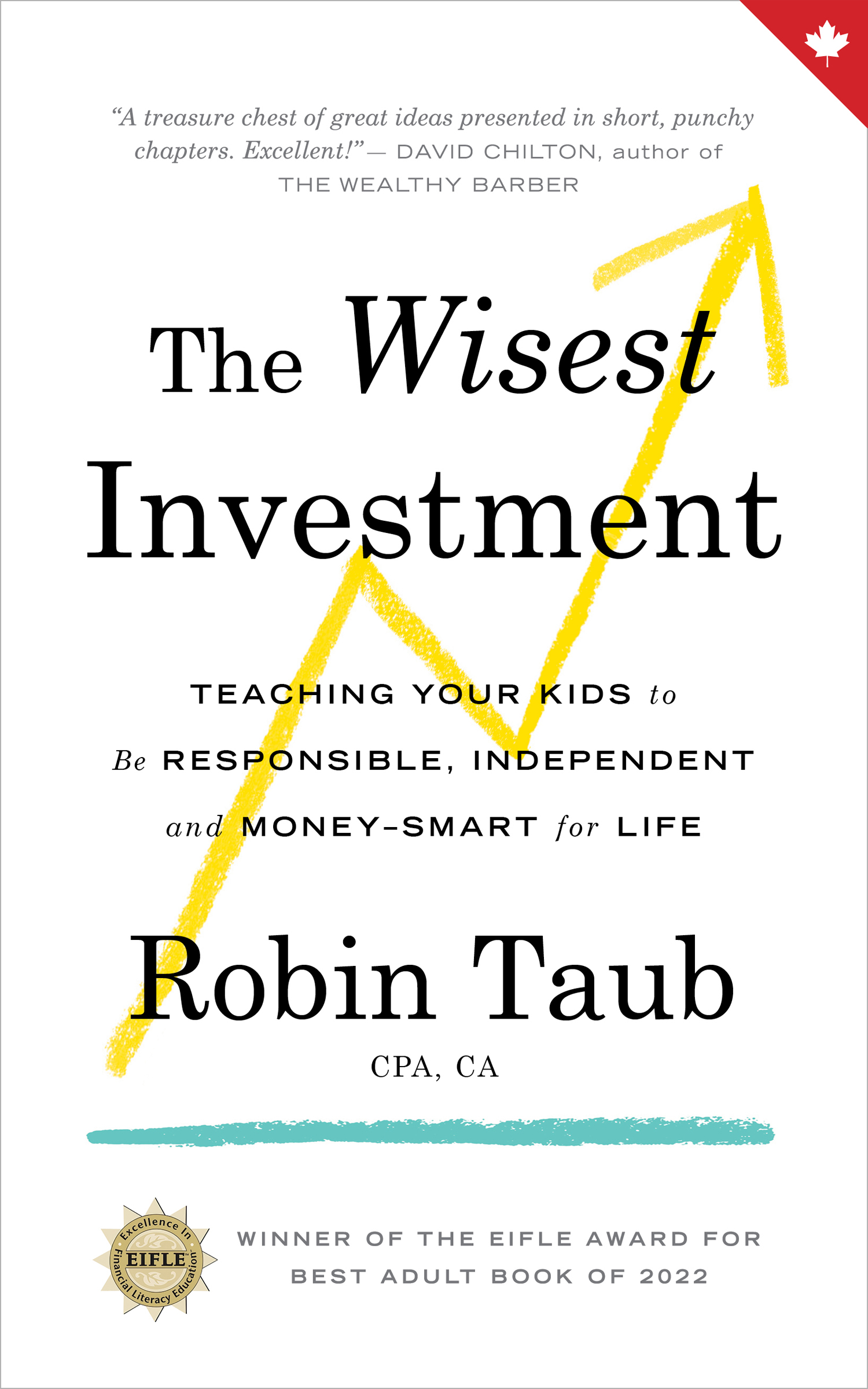 "A treasure chest of great ideas presented in short, punchy chapters. Excellent!"
— DAVID CHILTON, author of THE WEALTHY BARBER
"One of the questions I get asked on a steady basis is whether I know of any resources parents can use to teach their kids about money. My new go-to resource on this topic is Robin Taub's book, The Wisest Investment."
— ROB CARRICK, Personal Finance Columnist, THE GLOBE & MAIL
"It's my responsibility to teach my daughters strong personal finance fundamentals. This book is my secret weapon – a practical, tactical approach to how and when to confidently introduce money concepts."
— ERIN BURY, CEO, WILLFUL
"This book is the type of gift that keeps on giving quite literally. An absolute must read if your goal is to help your children become financially savvy."
— PATRICIA LOVETT-REID, Former Chief Financial Commentator, CTV NEWS
If you're too busy parenting to read another parenting book, The Wisest Investment is the book for you!
Most parents know that teaching their kids about money is critical to success in life, but studies show that many parents feel they lack the time, knowledge and experience to do it well. Add the seismic shift toward a cashless, digital society — accelerated by the impact of the Covid-19 pandemic — and it's easy to feel overwhelmed.
With The Wisest Investment: Teaching Your Kids to Be Responsible, Independent and Money-Smart for Life, award-winning Canadian author and Chartered Professional Account Robin Taub, shares strategies for time-starved parents who want to raise responsible, independent, money-smart kids for life. A go-to resource for families — complete with practical worksheets, activities and self-assessment tools — The Wisest Investment has been newly updated for navigating the post-pandemic world.
In The Wisest Investment, you'll learn:
The Five Pillars of Money: Earn, Save, Spend, Share and Invest
Age-appropriate (from young kids to emerging adults) examples, actions and guidelines
for all Five Pillars
How to instill solid values in your children to help guide and prioritize their financial
decisions
How to help your children establish healthy money habits for life
How to capitalize on "teachable moments" about money in countless everyday scenarios
How to enhance your own money knowledge, so you can "lead by example"
How to explain and navigate our increasingly cashless society
Teaching your kids to be money-smart will pay off in numerous ways and just may be one of the wisest investments you make.
Best Selling Author
Robin Taub
A Chartered Professional Accountant by training, Robin Taub (pronounced TOBE) began her career at KPMG, transitioned into real estate, and then landed in the complex world of derivatives marketing at Citibank Canada. Today, she's a keynote speaker and the award-winning author of The Wisest Investment, an update of the bestselling A Parent's Guide to Raising Money-Smart Kids.
Robin lives in Toronto, where she and her husband have raised two (mostly) money-smart young adults. For fun, she loves to snowboard, cycle and go to concerts. She even got backstage once and met Bruce Springsteen. Ask her how – she loves talking about it!
"This book has been an invaluable resource in helping educate our clients' children
and grandchildren about money — a topic that keeps them up at night. We don't
just recommend the book; we give copies to our clients and the feedback has been
overwhelmingly positive."
—DEREK COOPER, Senior iNVESTMENT Advisor, 
TD WEALTH PRIVATE INVESTMENT ADVICE
This is a must-read for all parents. I will definitely be recommending this book to all my clients and everyone else I know. I love how practical the ideas are and how Robin shows the importance of letting your children make mistakes and learn from them. This book should be given to every parent when they leave the hospital with their first newborn baby!
"This book is clear, practical, and customized to your kids' age and stage. Buy it, use it and thank me later!" 
—BRUCE SELLERY,
MONEY COLUMNIST FOR CBC AND CITYLINE, AND CEO, CREDIT CANADA
"I love how the book is laid out – the headers and exercises and how you have the stories in italics. It's very readable. It's also easy to go back and reference different parts, too." 
—Tara Nolan, Wealth Advisor